↓

↓
→
ÁZBEJ KRISTÓF: CÍM NÉLKÜL
2019. január 14. - 2019. február 2.
GALÉRIA 12 Kávézó és Borbár
Kallós Judit: Cím nélkül, Ázbej Kristóf kiállítása (Új Művészet Online, 2019. január)
https://www.hegyvidek.hu/aktualis/hirek/digitalis-muvek
http://www.hegyvidekujsag.eu/kultura/virtualis-utazas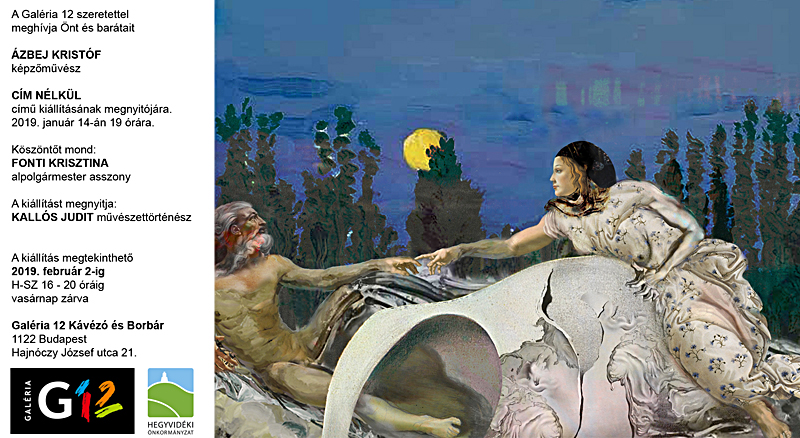 THE GREAT WALL - AND/OR THE BIGGEST MAP - OF HUMAN ENDEAVOR > A Large Scale Artwork Project + An Evolving Mega-Mural + A Worldwide Touring Exhibition
"The Glass Bead Game is thus a mode of playing with the total contents and values of our culture; it plays with them as, say, in the great age of the arts a painter might have played with the colors on his palette. All the insights, noble thoughts, and works of art that the human race has produced in its creative eras, all that subsequent periods of scholarly study have reduced to concepts and converted into intellectual property — on all this immense body of intellectual values the Glass Bead Game player plays like the organist on an organ. And this organ has attained an almost unimaginable perfection; its manuals and pedals range over the entire intellectual cosmos; its stops are almost beyond number. Theoretically this instrument is capable of reproducing in the Game the entire intellectual content of the universe." (Hermann Hesse)
"[The aspiration] to fashion an image of the world that will capture its infinite variety and richness"[…]"crops up throughout the history of art and humanity." (2013 Venice Biennale curator Massimiliano Gioni)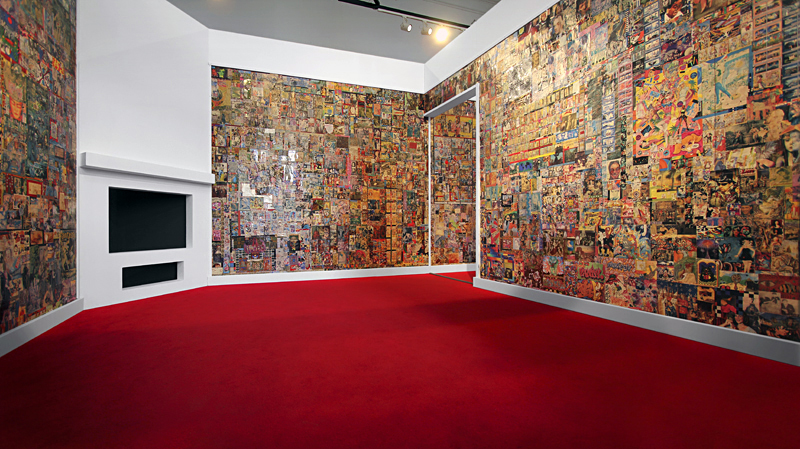 MUSÉE X-POINT ZÉRO, INSTALLATION AT MŰCSARNOK - KUNSTHALLE BUDAPEST, HUNGARY, 2016. PHOTOGRAPH BY ANDRÁS ALAPFY
+ VIDEO: Series of Interviews with Visitors of the Musée X-Point-Zéro in Bagneux, France (english subtitles)
ARTWORK DETAILS
Title: The Great Wall / Biggest Map of Human Endeavor
Installation Title: Musée X-Point-Zéro
Alternative Titles: Grotto One, Memory Motel, The Big Memory Generator, Eulogium Memorabilia
Date: 1981 - 1996
Technique: mural-collage
Medium: printed papers, transparencies, adhesive tapes, ink
Dimensions: 230 x 2250 cm
Installation Dimensions: 2.8 meter (H) x 10 meter (L) x 4 meter (W)
Original Location: Bagneux (France)
THE STORY OF THE ARTWORK
In 1981, Kristóf Ázbej established the Musée X-Point-Zéro (Grotto One Gallery) in Bagneux, a suburb of Paris. Between 1981 and 1996, he assembled a 52 square meter encyclopedic mega-collage that contiguously covers the interior walls of the Museum. As an extension of that kaleidoscopic time capsule cyclorama, he developed the Great Wall of Human Endeavor Project.
In 2014 the Musée X-Point-Zéro mural was removed from its original location in France and transported to Budapest, Hungary. The artwork was successfully restored in 2015, and an exact copy of the museum-apartment was built as a portable modular unit in order to display the mural as it travels from venue to venue. The project was supported by the Ministry of Human Capacities and the National Cultural Fund of Hungary.
The Musée X-Point-Zéro show was open to public viewing for the first time, between July 26 and September 11, 2016 at Műcsarnok - Kunsthalle Budapest. + Exhibition Wall Text
PAST VENUES:
REÖK REGIONAL ART CENTER, SZEGED, HUNGARY, MARCH 31 - APRIL 30, 2017 >
ART MARKET BUDAPEST, OCT. 13 - 16, 2016 >
MŰCSARNOK - KUNSTHALLE BUDAPEST, JULY 27 - SEPT. 11, 2016 >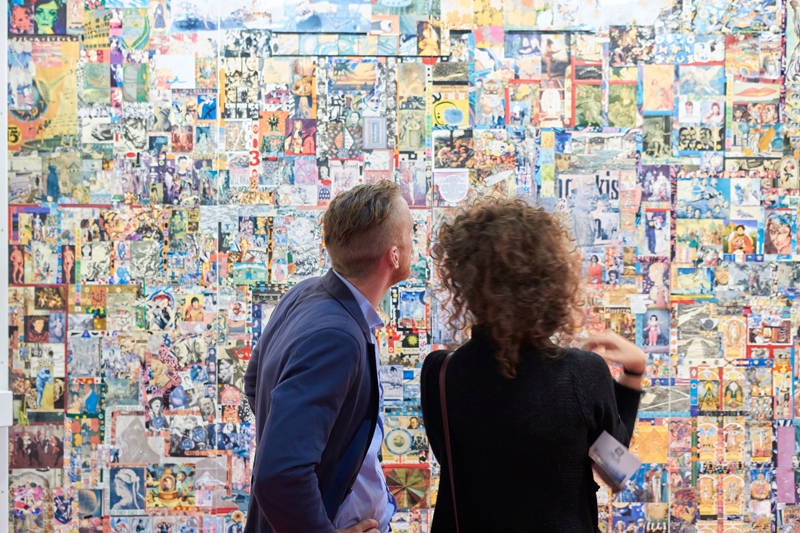 VISITORS AT ART MARKET BUDAPEST 2016 © PHOTOGRAPH BY DÁVID BÍRÓ / ARTKARTELL

THE GREAT WALL OF HUMAN ENDEAVOR, EXCERPTED SEGMENTS 1981 - 1996
#FUSIONPAINTING > #FUSIONART > #FUSION"ISM" > "Art is a game between all people of all periods." (Marcel Duchamp) ... "art, after all, derives from art." (Lucian Freud) "To create only the very best from the very best." (Wilhelm Maybach)

+ IN FUSION (FUSION PAINTING PORTFOLIO 2010 - 2019)
+ TEA TIME (Noprint Magazin, July 2016)
fusion painting: Branching from appropriation art, fusion painting is a new style in contemporary art, in which pictures are constructed solely from appropriated elements of selected artworks. Pictorial samples taken from masterpieces of all periods of art history and a wide range of cultures are assembled, manipulated and fused together by using digital and mixed media techniques to produce a new whole. In the context of contemporary art, the term "fusion painting" was first used in 2014.
fusionism: The concept of fusionism in art was developed related to the first experiences with fusion art techniques. In the first version of the Fusionist Manifesto – The Winning Strategy written in 2011, fusion art is introduced as a brand new and eclectic tendency in fine art "that will open new territories, create new dynamics, generate new aesthetics and initiate new theoretical perspectives in art." Fusionism is announced as a new "ism", fundamentally synergetic and relational, "experimenting with new type of collaborative methods and contexts in creative processes."
fusionist manifesto: "No evolutionary future awaits man except in association with all other men. The egocentric ideal of a future reserved for those who have managed to attain egoistically the extremity of everyone for himself is false and against nature. No element could move and grow except with and by all the others with itself.
Also false and against nature is the racial ideal of one branch draining off for itself alone all the sap of the tree and rising over the death of other branches. To reach the sun nothing less is required than the combined growth of the entire foliage.
The outcome of the world, the gates of the future, the entry into the super-human -these are not thrown open to a few of the privileged nor to one chosen people to the exclusion of all others. They will open only to an advance of all together, in a direction in which all together can join and find completion in a spiritual renovation of the earth, a renovation whose physical degree of reality we must now consider and whose outline we must make clearer." (Teilhard de Chardin: The Phenomenon of Man (1955), written 1938–40, as cited in The Fusionist Manifesto – The Winning Strategy, 2011)
fusion power: "Fusion power is power generated by nuclear fusion processes. In fusion reactions two or more light atomic nuclei fuse together to form a single heavier nucleus. In doing so they release a large amount of energy. Fusion is one of nature's most spectacular achievements. Fusion is the energy source of the Universe. It is the process that powers the stars. Billions and billions of fusion furnaces are flaring in the Universe, creating light and energy. What we see as light and feel as warmth is the result of a fusion reaction. In the core of the Sun, at temperatures of 10-15 million Kelvin, Hydrogen is converted to Helium by fusion, providing enough energy to keep the Sun burning, and to sustain life on Earth.
Scientists and engineers are working to reproduce fusion on a smaller scale. A prototype of working compact nuclear fusion reactor could be ready within five years.
Fusion power promises to be the ultimate energy source for the future. By the last quarter of the 21st century our world will enter the Age of Fusion, an age when mankind covers a significant part of its energy needs with an inexhaustible, environmentally benign, and universally available resource." (extracts from The Fusionist Manifesto – The Winning Strategy, 2011)

#FUSIONPAINTING2014, BUDAÖRS FESZTIVÁL EXHIBIT 2014
PROJECT 3:
MESSAGE TO EARTH / THE CATUKAL CODE AND THE HARI SELDON LABYRINTH > A Large Scale Artwork Project Based on a Science Fiction Theme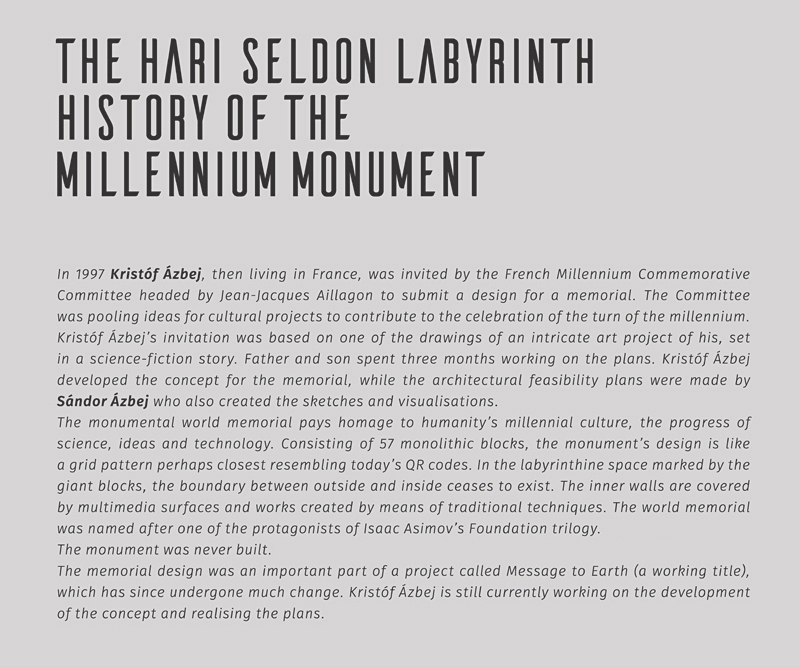 ÁZBEJ & ÁZBEJ | ALGIERS - BUDAPEST - PARIS, EXHIBITION WALL TEXT, MŰCSARNOK - KUNSTHALLE BUDAPEST, 2016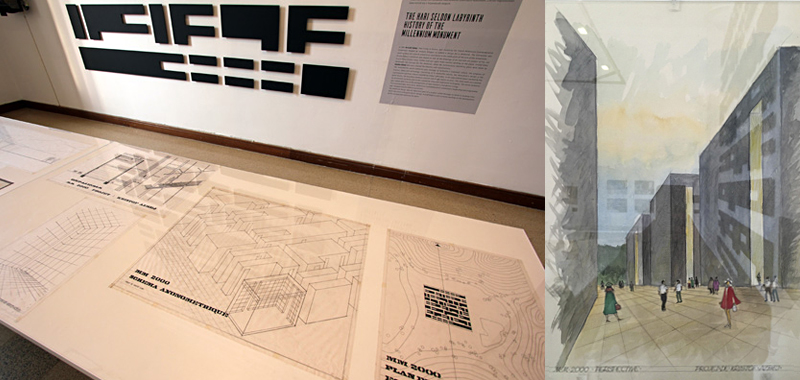 ÁZBEJ & ÁZBEJ | ALGIERS - BUDAPEST - PARIS, EXHIBITION AT MŰCSARNOK - KUNSTHALLE BUDAPEST, 2016
↓
+ THE CATUKAL CODE (excerpt from the beginning of the "Message to Earth" script, by Kristóf Ázbej)
THE CATUKAL CODE 2013
More content will be added soon …

© 2010 - 2019 Kristóf Ázbej - Contemporary Art Proposals - All Rights Reserved