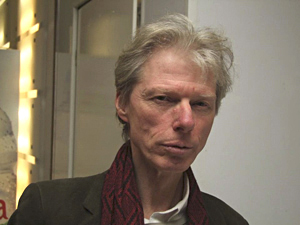 Photo: György Konkoly-Thege, 2013
Kristóf Ázbej is a multimedia artist and art project designer. Born in Budapest, Hungary in 1953, and educated in Budapest, Algiers and Paris, his works have appeared in exhibitions and in print since 1973. In 1981, he established the Grotto One Gallery / Musée X-Point-Zéro in Bagneux, a suburb of Paris. Between 1981 and 1996, he assembled a 52 square meter encyclopedic mega-collage that contiguously covers the interior walls of the Museum. As an extension of that kaleidoscopic time capsule cyclorama, he first develops the Great Wall of Human Endeavor Project, then the Memory Accelerator Tubes Project.
By the turn of the Century, at the request of the French Millennial Committee, he works on a complex art project code- named Message to Earth. The project involves architectural design, multimedia performances and film production. In 2008, he begins a series of digital paintings constructed entirely from appropriated elements of artworks from various periods in art history. The series, which presently comprises several hundred pieces, lays the foundation for a new artistic language and style he calls fusionism. In 2011 he issues the first version of the Fusionist Manifesto entitled: The Winning Strategy.
In 2014 the X-Point Zero Museum mural was removed from its original location in France and transported to Budapest, Hungary. The artwork was successfully restored in 2015. An exact copy of the museum-apartment was built as a portable modular unit in order to display the mural as it travels from venue to venue. The project was supported by the Ministry of Human Capacities and the National Cultural Fund of Hungary. The X-Point Zero Museum exhibition show was premiered at Mucsarnok - Kunsthalle of Budapest in July 26 - September 11, 2016.
Kristóf Ázbej lives and works in Paris and in Budapest.

© 2010 - 2016 Kristóf Ázbej - Contemporary Art Proposals - All Rights Reserved